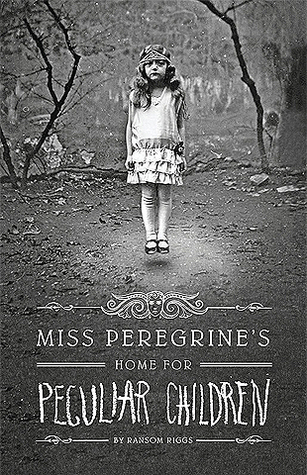 Book Title: Miss Peregrine's Home for Peculiar Children
Author: Ransom Riggs
Published By: Quirk on June 7th, 2011
Rating: ★★★
I had a really hard time getting into this book. It just wasn't like the books I normally read so I don't know if that is why it wasn't my cup of tea or if it's because it is a children's book that I had way higher hopes for.
When first looking at this book I thought that there was no way it could be a children's or YA book because of the freaky pictures on the covers and it just looked like something I wouldn't pick up at a younger age. Well it turns out I shouldn't have picked up at my current age either! It's not that this book was terrible it was just so BLAH. There was no feeling of thinking I needed to finish it as soon as possible like most books I read. I could've cared less if I didn't finish it. But, for the sake of a full book review I finished it and couldn't believe that there are actually more books to this series. Just for info, I will not be reading the sequels to this book.
Now I feel like I need to explain, it's not that the book is complete garbage. There are some sweet parts in it and the writing is great! It's just the story line.. I think the thing taht really made me not like this book was that once they revealed the main character to be "older" I expected him to, I don't know, grow up more?? That probably makes me sound like such an adult but seriously!! I just wasn't feeling this one.
** I'm currently reading Outlander and Throne of Glass. Review on Behind Closed Doors By: B.A. Paris will be posted tomorrow. Follow this blog so you will be updated every time I post! Stay tuned for more book reviews, fitness tips, and a glimpse into my life!**